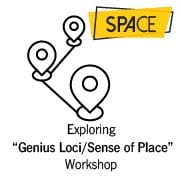 SPACE Studies announces its first workshop series which will be held between January and June 2019. Workshop series "Exploring 'Genius Loci/Sense of Place' – Urban Spaces of London: XXX" is the field survey of an ongoing mixed research project about individuals' discovering a sense of place in the urban spaces of London and the way they express their perception. SPACE Studies of Planning and Architecture invites not only urban sketchers, architects, artists, photographers, writers, urban designers, sociologists but also everyone who has desire to experience the City and to try new methods to express their ideas.
Each Urban Space chosen is hosting two workshops; one in week time and one at weekend in order to give chance to the participants to find suitable time for themselves to join. Every workshop starts at the meeting point given at 10AM and ends at 4PM. In between the workshop has an information session about the genius loci, or 'sense of place', walking and discussion tours and a producing period. All the works produced during the workshops will be exhibited by SPACE and be published according to the Research Project's plan with ISBN by Space Studies Publications.
The details of the workshop including their dates and times on the workshop page.